Spill the Tea: Refreshing Summertime Sips
Summer time is here and here in Davis, CA the heat waves are in full swing!  
For me, summer means pool side picnics with extended family, toast and coffee with my High School Teacher hubby at the backyard table, and balmy summer nights by the fire pit with family and friends.
As you know, we at Do Good Shop adore all things fair trade!  And while it's not super possible to use all fair trade items all the time, why not try subbing one of your standard picnic or party items for a fair trade version?? 
May we suggest a fair trade drink swap this summer?
FAIR TRADE ICED TEA!
Here's a fun summer beverage to refresh your guests either mocktail or cocktail style.
Hibiscus-Honey Iced Tea
6 hibiscus tea bags

½ cup honey

1 cup fresh lime juice (from 8 to 10 limes)

1 cup light rum (optional)
Directions
In a large heatproof pitcher, combine tea bags, honey, and 5 cups boiling water; let steep 10 minutes. Discard tea bags. Add lime juice, rum (if using), and 3 cups cold water. Refrigerate until cold, at least 1 hour (and up to 1 week). Serve over ice.
*Originally appeared: Everyday Food, June 2008
Fave Iced Tea Variations
There are multiple takes on summer's quintessential drink!  It's surprisingly easy to make by the glass or by the pitcher, and there are almost endless flavor combinations and creative recipes to try.

One of the easiest ways to make a lot of iced tea at once is to brew a strong iced tea concentrate, which you then mix with water and ice as needed.  Try our variety of easy to make iced tea concentrates to bring your summer all the fair trade and festive vibes!
Iced Tea Concentrate
Ingredients & Supplies
Instructions
Boil 8 cups water and pour into a heatproof glass pitcher.

Add 15 tea bags of your choice and let steep for 5 minutes.

Remove the tea bags and let cool to room temperature.

Transfer to sealable containers and refrigerate.

When you're ready to drink, add 1 part concentrate to 3 parts water and ice in a glass or pitcher.
Simple Syrup
Sweeten your tea without the sugar crystals lingering at the bottom of your glass! Simply combine 1 part sugar with 1 part hot water just off the boil and mix well. Add to your glass or pitcher of tea to taste.
Try some of these iced tea concentrate variations
Red & Black Iced Tea
Half rooibos, half black tea
Steep 7 tea bags of Rooibos tea and 7 tea bags of Black tea.
Iced Hibiscus Tea
Refreshing, tart, and sweet
Steep 15 tea bags of Organic Hibiscus Tea. Add a sprinkle of cinnamon and a dash or two of local honey.
Iced Green Tea with Honey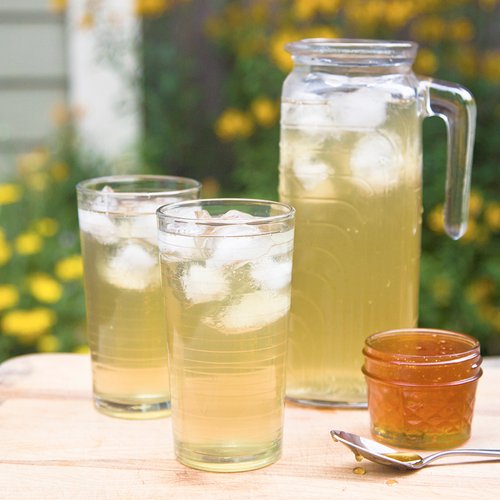 Steep 15 tea bags of Organic Green Tea being careful not to scald the tea leaves (180°F water, steep for 3 minutes, covered). Add one or two tablespoons of local honey while it's still warm, stirring to incorporate as it melts.
Peach Rooibos Iced Tea
Steep 15 tea bags of Organic Rooibos Tea. Sweeten with fresh peach slices, mint leaves, and a touch of local honey.
Cucumber Peppermint Iced Tea
Steep 15 tea bags of Organic Peppermint Tea. Add sliced cucumber and a few sprigs of mint.
Share the Tea!
Whatever recipe you choose, snap a pic and tag @do_good_shop so we can celebrate the lazy, hazy, crazy days of summer with you!  
And thank you for choosing to SHOP the CHANGE you wish to see in the world. 
Do Good Shop is a 501c3 nonprofit social enterprise marketplace.  All items are made by and all profits benefit people escaping trafficking, poverty, exploitation, and injustice.
---